There are numerous reasons why corporate profits are at record highs and productivity is soaring. Not least among them, employees are working longer hours and companies are making data-driven decisions on how to enable employees to be more productive. However, there's also a quiet revolution occurring at companies large and small as they discover ways of using new cloud-based technology to be more efficient. Not only are employees using these tools to get their work done faster, but companies are using these tools to drive growth with business partners. The average company connects to 1,555 business partners via cloud services, the scale of which comes as a surprise to many people at these companies.
Take the examples of a manufacturing company that works with another manufacturing company to plan the development of a new product, or a technology company that connects with an external public relations firm to organize go-to-market activities related to a product launch, or a telecommunications company that connects to an HR provider to track employee benefits. While these types of activities have happened before, they are increasingly facilitated by an ecosystem of cloud applications that are accessible from any computer or mobile device anywhere in the world.
The rapid emergence of business partners collaborating via cloud services is being driven by several factors. First, off-the-shelf cloud technology is supplanting heavily customized on-premise software. With rapid release cycles and innovative capabilities, cloud services are often the best option available in a given application category today. Companies don't just use Salesforce because it's the best cloud-based CRM, they choose Salesforce because it's the best overall CRM. Second, cloud technology is less expensive than on-premise software. A study by Vanson Bourne found that companies using the cloud experienced a 15.07% reduction in IT spending. Finally, software distribution in the cloud era is radically easier. As we'll see below, some of the top cloud providers are less than 2 years old.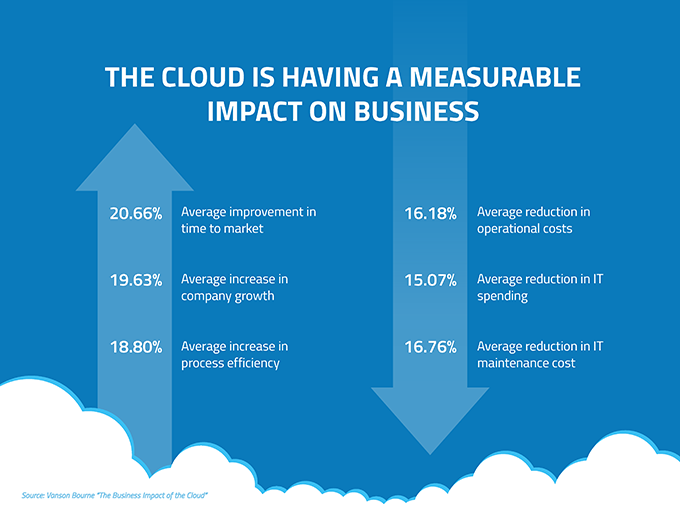 Some interesting patterns emerged when we looked deeper at how companies connect with partners. The most common use cases for partners connecting in the cloud are customer service, file sharing, and collaboration. We found that a small number of cloud services are responsible for an outsized number of all partner connections in the cloud. These cloud "hyperconnectors" are driving economic activity between companies, and are the modern equivalent of ports and trading centers that facilitated previous periods of growth in economic interconnectedness.
Slack has had a stellar rise. The company is less than two years old, but it's one of the top 3 collaboration cloud services companies use to connect with business partners. Skyhigh's usage data shows it's the fastest growing cloud service, which is remarkable considering it's already used by 60% of large enterprises. In a recent investment round, the company was valued at $2.8 billion.
Cloud Adoption & Risk Report
Based on data from over 17 million users, the definitive resource on cloud usage trends and risks.
Download Now
In the customer service category, Zendesk dominates partner connections followed by industry heavyweight Salesforce. Although Citrix ShareFile is the fifth most popular file sharing service based on user count, it facilitates more partner connections than any other file sharing service. Similarly, Wiredrive is the third most prolific connector although it's not in the top 10 list of most-popular file sharing services.
Customer Service
File Sharing
Collaboration
There is also an emerging class of companies that are extremely well connected with their partners via the cloud. Out of thousands of companies, 58 "super partners" connect with more than 50% of enterprises. Some of the top super partners include a pest control company, an IT products company, a systems integrator, a corporate events company, and a management consulting firm. However, these well-connected companies could pose a risk to their partners. If one super partner is compromised, an attacker could gain access to hundreds of other companies.