In 2011, Geoffrey Moore introduced the concept of systems of engagement and predicted they would be the next wave in enterprise IT. Whereas systems of record, which capture every dimension of data relevant to a company and process that data, were the focus of information technology initiatives last century, the new focus, he claimed, was on systems of engagement that enabled greater collaboration and communication.
Systems of engagement allow users to share files and information and communicate in real time via video and chat. Their focus, in other words, is on people and not processes. Many were built from the ground up to run in the cloud
With the success of cloud applications like Office 365, Box, Slack, and Salesforce Chatter, Moore's prediction appears to be prescient. However, the benefits of the cloud are now being extended to systems of record. Companies have discovered that the cloud increases employee productivity, while reducing IT infrastructure costs and maintenance and are eager to realize these benefits with their systems of record.
CSA Survey Report
Get unique insights into how IT leaders are managing cloud adoption and handling risk from cloud usage.
Download Now
The most common system of record to be deployed in the cloud today is customer relationship management (CRM) solutions and 36.3% of companies now use a cloud-based CRM.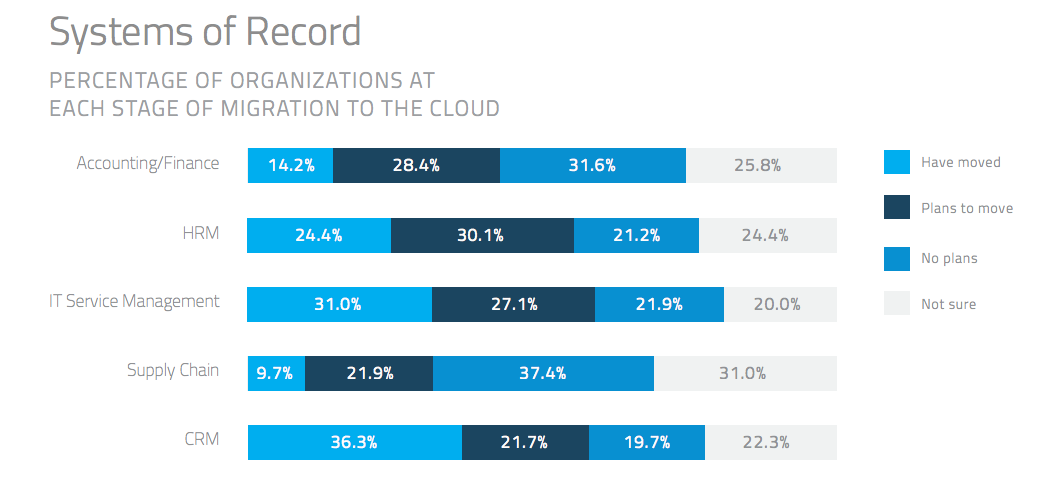 After CRM comes IT service management, a category that includes ServiceNow. Today, 31.0% of companies use a cloud-based IT service management application. IT service management is followed by human resource management (HRM) applications, with 24.4% of companies having deployed a cloud solution such as Workday and SuccessFactors. Another 30.1% plan to move their HRM solution to the cloud while 27.1% of companies plan to move their IT service management to the cloud.
One department still lagging behind is the finance department. Although only 14.2% of companies today use a cloud-based accounting/finance application, another 28.4% have plans to move to the cloud.
There are several primary benefits driving this next wave of IT transformation. Across companies that have moved their system of record to the cloud or plan to do so, the most common perceived benefit, referenced by 71.8% of respondents, is lower up-front or ongoing costs.
Nearly as many respondents (69.2%) indicated that faster implementation was a benefit. About half of respondents (49.4%) indicated that a better user experience was a benefit of moving to new cloud-based options compared with their legacy solution.
While not explicitly identified by respondents, another potential benefit of cloud-based systems of record is the ability to integrate these applications with an expanding ecosystem of third party apps. There are over 2,000 apps on Salesforce's AppExchange and the average company says that it connects 2.6 third-party applications to their Salesforce environment.
However, this is still fewer than the number of apps companies connect to their systems of engagement. The average company connects 17.2 apps to their Google environment.
A majority, 64.9%, say that the cloud is either more secure than on-premises software or that they have equivalent security. One potential reason for this is that cloud providers like Salesforce and Workday have invested heavily in security, extending beyond even what some of their customers do to secure their on-premises applications. Despite concerns about the security of corporate data moving to the cloud, just 35.0% of IT and IT security professionals believe that, as a general rule, cloud-based systems of record are less secure than their on-premises counterparts.
Given the increased confidence in cloud service security, at first glance it may be surprising that the primary obstacle to moving systems of record to the cloud, noted by 67.8% of companies was the ability to enforce their corporate security policies. Note that this does not mean that IT professionals are concerned about the ability of cloud providers to protect against malware, APT, and DDoS. They are concerned with their ability to continue to enforce the security policies they do for data in on-premises systems.
The next most common barrier, reported by 61.2% of companies, is concern about complying with regulatory requirements. Budget-related constraints do not appear to be a major hesitation when it comes to replacing a legacy on-premises system of record with a cloud-based equivalent.