Up until just a few years ago, when it came to software you only had a couple choices. You'd either trek to the local retailer and pick from a box from the shelf, or in the case of enterprise software, you'd spend months trying to deploy it. There are exponentially more choices available today and many of these applications are delivered via the cloud, which means that they can be sourced and deployed with the click of a button. And, with open source software components and platforms like Amazon AWS, it's cheaper and easier for an entrepreneur to build an application and make it immediately available to a global customer base.
The top 10 list
Skyhigh's CloudRegistry tracks over 8,000 of these cloud-delivered applications or cloud services. In our latest Cloud Adoption & Risk Report, we examined anonymized cloud usage from over 13 million users worldwide. Based on actual usage data, we identified the fastest growing cloud apps in Q3. These apps are seeing explosive growth (the fastest growing app tripled its users last quarter) and they could rival established incumbents in a few years if they maintain their current trajectory. They're worth taking a look at if you have a project in any of these categories.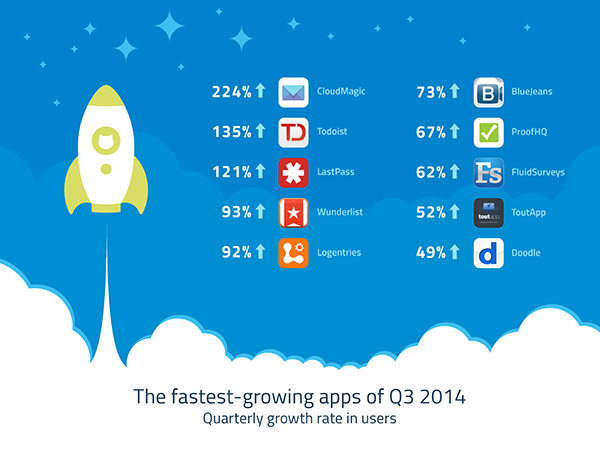 1. CloudMagic
CloudMagic is an award winning email app for iOS and Android that gives you tools to manage your inbox. It also comes with integrations to other apps like Evernote, Zendesk, and Salesforce to make you more productive.
2. Todoist
Todoist is a to-do list and task manager that lets you access tasks anywhere and collaborate on tasks with other people. With projects, sub-tasks, and filters, you can stay on top of your work and be more productive.
3. LastPass
LastPass helps you create long, strong passwords that reduce the risk of account compromise and automatically fills in forms so you don't have to remember them. It even remembers payment information to accelerate online shopping.
4. Wunderlist
Wunderlist is a to-do list, reminders, and errands app that lets you manage your tasks using lists. Teams can manage projects with centralized communication and assign tasks to keep things on track.
5. Logentries
Logentries is a log management solution built in the cloud. It lets you quickly search and analyze logs, receive notifications, and annotate logs from cloud services, mobile services, operating systems, and databases.
6. Blue Jeans
Blue Jeans is an enterprise-grade video conferencing app that works with telepresence systems, web browsers, and mobile devices. You can also share your screen with participants and share videos.
7. ProofHQ
ProofHQ is used by brands and agencies worldwide to simplify the workflow for marketing projects. You can manage document reviews, proofing, and approvals to accelerate the delivery of projects.
8. FluidSurveys
FluidSurveys is online survey service. You can create online, offline, mobile, and tablet surveys, and analyze responses. Integration with Salesforce, Zapier, Olark, and Dropbox extends the power of your survey.
9. ToutApp
ToutApp is the leading sales communications platform offering salespeople email tracking, templates, and real-time analytics to increase productivity and help close more deals in less time.
10. Doodle
Doodle simplifies the process of scheduling events, meetings, and appointments by showing colleagues and third parties your availability and letting them pick a time. It integrates with all common calendars to avoid double booking.
Cloud Adoption & Risk Report Q3 2014
Based on data from over 13 million users, the definitive resource on cloud usage trends and risks.
Download Now
Security isn't rocket science
As you may expect, users are adopting new cloud apps that solve problems in new ways, but they don't always have enterprise security in mind when doing so. However, when you look at the top 10 list, 4 of the top 10 (Blue Jeans, LastPass, Logentries, and ProofHQ) or 40% are actually rated Skyhigh Enterprise-Ready, which means they meet the most stringent requirements for data protection, identity verification, service security, business practices, and legal protection. That's significantly higher than the 9.5% average across all cloud services and is an encouraging data point for IT groups tasked with managing cloud security.
There are two likely explanations for this. First, users and departments are choosing to use emerging cloud apps that also have put a focus on security, compliance and governance of corporate data. More likely, app makers are investing in security capabilities as they seek to do business with medium and large enterprises. Either way, it is a win-win-win for users, enterprise and cloud service providers.